20 Jul
Diamond and Gemstone Jewelry
Jude Frances is a fast growing designer jewelry brand. Jude Frances Jewelry is headquartered in Southern California. Its famous clients include Oprah Winfrey, Kristen Chenoweth and Paris Hilton. The 18k gold jewelry line is designed with diamonds and semiprecious gemstones. It features a unique interchangeable hoop and charm concept along with beautiful necklaces, bracelets, and engagement rings. In just five years, Jude Frances Jewelry has grown from being sold in just 3 stores to 29 stores.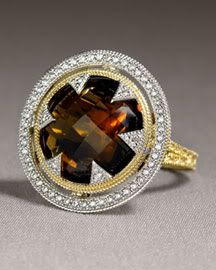 Cinnamon Topaz Ring
Faceted cinnamon topaz stone. Pavé diamond accents; 0.29 total carat weight. 18-karat white and yellow gold setting. 1"W.
$3240

18K Gold & Diamond Fleur Circle Pendant
16" chain. Pendant is 1" and 1/4" at widest point. 1" and 1/2" drop from chain.
$3290

18K White Gold, Diamond & Rubilite Earring Charms
18K white gold charms with dazzling Rubilite stones and diamond detailing. Charms measure approximately 1". .03 TCW. Hoops sold separately. Also available in yellow gold.
$630
Frances is inspired by architecture – the Venetian Collection that launched in June 2007 was inspired by a trip to Italy. She was born in the English countryside and favors the more romantic styles. Texas native Jude inspires the edgier side of the line. Her favorite piece in the line is a white gold cuff bracelet with a diamond cross that Frances gave her as a birthday gift. Jude is inspired by fashion and style and has a knack for staying ahead of fashion trends.