28 Aug
Designer Fashion Watches
Don Ed Hardy is known as the godfather of modern tattoo for his sophistication, depth, and experimentation. A California native, Hardy is recognized around the world for his technical brilliance and mesmerizing imagery. He pulls from his life experience to meld American, Japanese, Cholo, tattoo, surf, and hotrod iconography. This broad spectrum of taste and experience, coupled with an ongoing investigation of various art histories and a mastery of technique, give his work a unique range and depth. Ed Hardy is one of the hottest brands, and is worn by style-conscious celebrities and non-celebrities alike.

Ed Hardy Love Child Strap Watch
The wide dotted strap is accompanied by a gold ionic plated stainless steel bezel and a gold-tone dial decorated with Ed Hardy's logo and a flower. Jewelry designed by Ed Hardy offers a fresh and fashionable look based on intricate artwork inspired by edgy and creative tattoos.
$187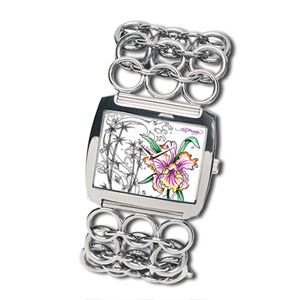 Ed Hardy Ladies' Lynx Orchid Watch
Creating a unique and fun appeal, this watch band features three rows of circular stainless steel links. Designed by Ed Hardy, this artistic creation is embellished with a blooming, and joyful orchid decorating the white, square dial. Artwork unlike any other, this creative centerpiece is surrounded by a stainless steel bezel.
$155

Ed Hardy Ladies' Temptress Love Kills Watch
The contradicting combination of roses and skulls provides this edgy Ed Hardy watch with a little feminine romance. A "Love Kills Slowly" emblem at the center of the black rectangular dial offers a wild centerpiece. With a colorful collection of flowers and skulls decorating the wide, black leather strap, this watch becomes an accessory unlike any other.
$175
Ed Hardy's designs have built a fervent following among celebrities, athletes, and musicians of all genres. Hardy is a painter, printmaker, and tattoo artist. Fascinated by tattoos since childhood, he has become a master of his craft, while continuing his work in the more traditional mediums of painting and drawing. Hardy now has stores all over the world, and has expanded the brand to not only offer shoes, but clothing, bags, eyewear, watches, belts, bracelets, scarves, and hats.