Amedeo Scognamiglio Jewelry
11 Aug
Italian Cameo Jewelry
Amedeo Scognamiglio's family has practiced the art of carving cameos for five generations. His mother, Marisa, pencils sketches on shells as templates for the carvers. His company, M+M Scognamiglio, is the world's largest manufacturer of handmade cameos, and it has evolved into an impressive brand. Every cameo is a one-of-a-kind masterpiece, handcrafted by highly skilled artisans from a single, two-layer shell. The layers provide subtle depth and shine, composing delicate feminine silhouettes and romantic imagery.

Italy Cameo Sardonyx "Butterfly" Sterling Silver Pendant
The butterfly-shaped pendant reveals a hand carved sardonyx (approx. 44mm) that has floral designs on one wing, and open, filigree-adorned sterling silver metalwork on the other wing, with a sterling silver body and antennae.
$400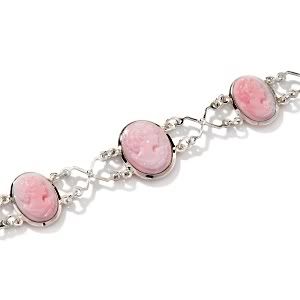 Italy Cameo Oval Pink Conch Sterling Silver Bracelet
Oval pink conch stone stations alternate with slightly larger, oval pink conch stone stations (approx. 14 and 16mm) along the bracelet, separated by x-shaped metalwork links. Measures approx. 7-1/2"L x 11/16"W.
$400

Italy Cameo Simulated Turquoise Sterling Silver "Lady" Ring
Hand carved, square simulated turquoise (approx. 25mm) reveals the captivating profile of a woman whose locks are beautifully integrated into the stone's shape. Measures approx. 1-1/16"L x 1"W x 1/4"H; shank 1/8"W.
$250
Amedeo was standing in his father's workshop, located at the scenic Mount Vesuvio in Naples, Italy, when he carved his first cameo. He was 16 years old. Upon earning his law degree in 1997, Amedeo moved from Italy to New York to oversee the company's U.S. operations. His work soon grew in popularity, appearing in Vogue, W, Elle, Marie Claire, Women's Wear Daily, Gotham, InStyle, UsWeekly, Town & Country, Oprah, New York Magazine, Philadelphia Style, and a host of other fashion magazines. His work has adorned celebrities like Ivana Trump and Sarah Jessica Parker.
Related posts: