Ammolite Jewelry
24 Aug
Gemstone Jewelry
The colors present in Ammolite are caused by light interference during refraction into the many layers of the gemstone. Each color in Ammolite represents a different layer of the gem material. So, depending on the number of fine layers in the rough, everything from one color to the full visible spectrum will be displayed. Since the play of light varies, every Ammolite gem shows a unique array of color. Ammolite comes in a wide variety of colors including red, blue, green, yellow, gold, pink, and many others.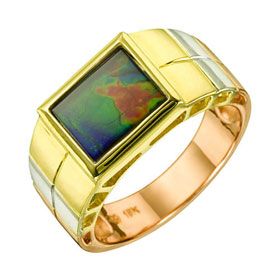 18K Tri-tone Gold Men's Ammolite Ring
This ring features a luminous Ammolite set in gleaming 18k yellow, white and rose gold band. Ammolite makes a glittering addition to any jewelry collection.
$1365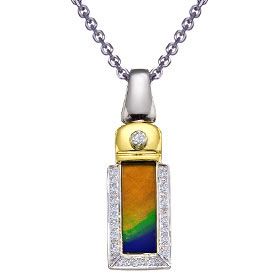 18K Gold Ammolite & Diamond Pendant
This 18k yellow gold pendant features a luminous Ammolite with sparkling accent diamonds (.10 ctw). Includes a 18k white gold 16" chain.
$2360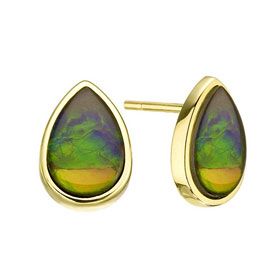 14K Gold Ammolite Earrings
This 14k yellow gold pair of earrings features a luminous Ammolite. Complete with traditional posts & butterfly backs.
$670
Ammolite is a gemstone created from the shell of a fossilized sea creature that existed over 65 million years ago called an ammonite. Although sources of ammonite exist in other locations around the globe, it is only in one isolated region of Southern Alberta, Canada, that this deposit produces the gemstone Ammolite. Seventy-one million years of tectonic pressure, heat, and mineralization have resulted in the formation of this geological wonder. The supply of Ammolite is extremely limited, and with only one area for mining, Ammolite truly is one of nature's rarest gems.
Related posts: