CC Skye Jewelry
21 Jul
LA Fashion Jewelry
Based in Los Angeles, CC SKYE Jewelry embraces true IT Girl style with gleaming gold hardware and a fashion-forward sensibility that has made her pieces virtual wardrobe staples for super stylists and today's brightest stars. CC SKYE first began designing clothing and jewelry in the back streets and bustling bazaars of Katmandu, Nepal, while studying abroad. She lived with a Shaman in the hills of the Himalayas while filming a documentary on Hindu and Buddhist worship. While her wardrobe overseas was well suited for hiking the Himalayas, CC SKYE – always a LA Girl at heart – craved the look on the pages of Vogue while living in her mud hut. She added metal work and gemstones to her creative pursuits while abroad.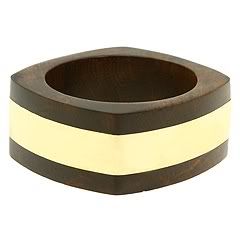 CC Skye Woodstock Bangle
• Wooden squared bangle with gold-tone center.
• Approximately 2" wide.
• 2 3/4" inside diameter.
$59

CC Skye 24K Gold-Plated Wide Buckle Bracelet
• 24K gold-plated with enamel overlay on band.
• 2 1/2" inside diameter.
$179

CC Skye Chunky Rectangle Ring
• Faceted quartz stone.
• Face measures approximately 1" across.
$159
After returning to Los Angeles, CC discovered the jewelry district of downtown Los Angeles, where she began to work with a local craftsman who taught her the trade, much like the locals in the Himalayas. One summer later, CC SKYE was born. These pieces are available in more than 800 stores around the world. The Collection is represented by the esteemed Cynthia O'Connor + Company Showroom in New York and Los Angeles. CC SKYE currently lives in Malibu, California.
Related posts: