House of Harlow 1960 Jewelry
17 Jun
Nicole

Richie's Fashion Jewelry Collection

I know I'm telling my age when I say this, but the 1960s was my decade, and there are lots of good things to remember from that hippie heyday, especially the jewelry. Needless to say, I love Nicole Richie's line of jewelry – House of Harlow 1960 – and it's making me sentimental. I never wore the hair accessories that were popular then, but I think these headbands are fabulous.

House of Harlow 1960 14K Gold Plated Carnelian Dome Ring
14K Yellow Gold Plated Carnelian Dome Ring, also available in black and Tiger's Eye.
$65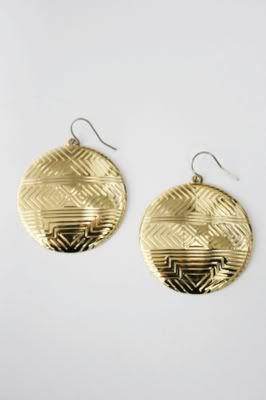 House of Harlow 1960 14K Gold Plated Medallion Earrings
14K yellow gold plated disc earrings
$48

House of Harlow 1960 Gold Starburst Cocktail Ring
14K Gold Plated Starburst Cocktail Ring with Black Leather
$50
Unlike some other celebrity designers, Nicole Richie really seems to have created jewelry that she likes – not just what might be a commercial success or carbon copies of current trends. With an eclectic style that incorporates a mix of bohemian, flower child, and street-chic, Nicole has succeeded in creating a collection that not only illustrates her love of fashion from many different eras, but more than lives up to its hype. And she has actually created a complete line of jewelry, not just a few pieces.
Related posts: