Jacklyn Zeman Jewelry Collection
23 Jul
Celebrity Fashion Jewelry
Born in Englewood, New Jersey, Jacklyn Zeman is an American actress, who completed her high school studies at 15 in Bergenfield, New Jersey, where she was raised, and studied dance on a scholarship at New York University. Soon she was dancing and modeling professionally while continuing her studies. A desire to act on daytime television led Jacklyn to her debut on ABC's One Life to Live. After her character's untimely demise, Jacklyn was asked to go to Los Angeles to create the role of Bobbie Spencer on General Hospital, a role she has played since 1977.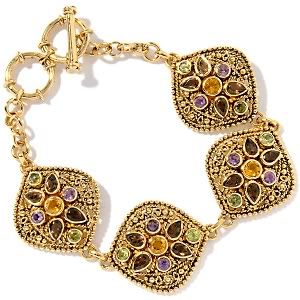 Garden Party Marquise Gemstone Bracelet
Repeating marquise-shaped stations along this yellow Technibond bracelet each showcase a round citrine (approx. 4mm) in the center. Four pear-shaped smoky quartz (approx. 5x3mm) stones surround the citrine. Round amethyst (approx. 3mm) and peridot (approx. 3mm) stud the bead- and rope-textured backdrop, while a beaded border completes each station.
$119

Sophisticated Charm" Gemstone 8" Bracelet
Fashioned from yellow Technibond, this charm bracelet showcases a single row of interlocking rope-textured cable links. Four unique charms dangle from the bracelet, each boasting an array of bezel-set gemstones. All the charms feature backdrops of bead- and rope-textured detailing.
$111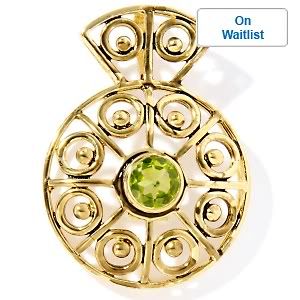 Go Girl Open Circle Peridot Pendant
Fashioned from Technibond, this pendant showcases a round shape with an openwork interior. Segmented areas around the pendant boast open circle designs, each with a metalwork bead in the center. A bezel-set, round peridot (approx. 6mm) sparkles in the center. Technibond jewelry is crafted from .925 sterling silver that is plated with a layer of platinum or a 40-mils-thick outside layer of 14K yellow or rose gold.
$30
This uniquely designed jewelry collection is for any woman who's looking for new and exciting ways to show off her strong sense of style and bohemian sense of adventure. Made with semiprecious stones and HSN-exclusive Technibond Gold, each beautiful piece is a chic option for those looking for affordable luxury. Sometimes called Jackie Zeman, Jacklyn was married to Murray the K and is currently married to Glenn Gorden, with whom she has two daughters, Cassidy and Lacey.
Related posts: