Noir Jewelry
16 Jul
Designer Fashion Jewelry
Leeora Catalan, creator of the influential accessories design house nOir, began her career at Ralph Lauren and Oscar De La Renta before making her mark as a successful fashion stylist. In 1996 she launched nOir. Leeora has collaborated with designers such as Marc Jacobs, Diesel, Cynthia Rowley, Betsey Johnson, and Nanette LePore, creating jewelry for their runway shows.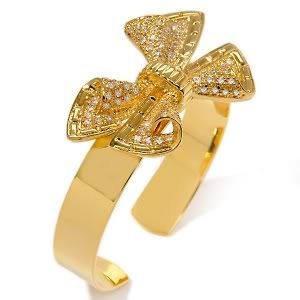 Noir Crystal Bow 7-1/2" Cuff Bracelet
Complete the trimmings of your ensemble with the trendy look of this Crystal "Bow" Cuff Bracelet. Textured details swathe the borders and center of the bow-shaped station, which centers the dainty cuff. Bringing a glamorous glitter to the design, round clear crystals encrust the "bow" from pavé settings.
$20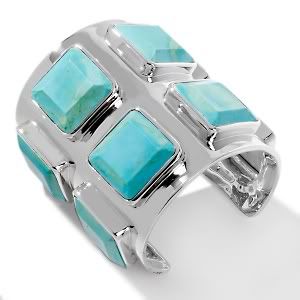 Noir Stone Station Oversized 5" Cuff Bracelet
Stations of faceted rectangular stones (approx. 22.5×22.5×4.3mm) adorn the cuff bracelet, accenting in a stacked design from raised bezel settings. Substantial in size, the cuff features rounded ends for comfort and wearing ease. Goldtone (with tiger's eye) or silvertone (rhodium-plated with simulated turquoise).
$150

Noir Interlocking Mesh Link 42" Necklace
Popcorn-style links compose the necklace, leading into an alternating pattern of small and large, oval mesh links. Boasting supreme shine, the polished finish gleams against the contrast of your clothing.
$50
Noir Jewelry has been worn by celebrities including Madonna, Iman, Gwen Stefani, Beyonce, Mary J. Blige, Jennifer Lopez, Sarah Jessica Parker, and Paris Hilton. Leeora had been a stylist for two years, when a friend had asked her to style his fashion show. He wanted her to find super-long jet necklaces with tassels. She couldn't find them in the market, so she made them. After the show, Bloomingdale's fashion director expressed an interest, and Vogue Italy wanted to shoot them. She had to think of a name fast! Noir came to mind since all the jewelry was black.
Related posts: