Renata Studio Jewelry
8 Jul
Designer Fashion Jewelry
Renata Studio Jewelry is created using Technibond – a trademarked plating process for jewelry sold exclusively by HSN and hsn.com. Technibond jewelry is crafted from .925 sterling silver with a 40-mils-thick outside layer of 14K yellow gold. Technibond was created for HSN in November 1990 as a way to offer the look and feel of Gold at a lower price.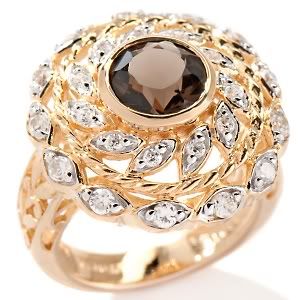 Renata Studio Smoky Quartz Round Ring
Fashioned from 14K yellow Technibond, the beguiling ring showcases a round silhouette with a bezel-set, round faceted smoky quartz in the center. A 3-row frame alternates rhodium-plated rows of marquise-shaped stations with a single rope-textured row. The vintage-like stations sparkle with prong-set, round clear CZ accents.
$120

Renata Studio Pink Amethyst 17-1/4" Necklace
Glistening with a feminine elegance, a bezel-set, pear-shaped pink amethyst drop with a checkerboard-cut silhouette falls gracefully at the neckline. A bezel-set, round clear CZ at the top of the drop infuses added sparkle into the glamorous piece.
$200

Renata Studio Citrine Stained Glass-Inspired 7-1/4" Charm Bracelet
Influenced by Indian design, this 14K yellow Technibond charm bracelet showcases eight charms dangling from openwork geometric links. Two charms feature bezel-set, round citrine cabochons, two charms tout solid stained glass-inspired silhouettes, two charms flaunt bezel-set, round faceted citrines in antique-like frames, one charm presents a bezel-set, round faceted citrine and the final charm completes the piece with a faceted citrine beneath a geometric overlay.
$130
Inspired by the exotic influences found in Indian jewelry, Renata Studio Jewelry offers gemstone jewelry in rich exquisite colors. Each piece has a lifetime manufacturer's warranty against damage to the complete piece, including plating and stones. Fashioned from 14K yellow Technibond, this line of jewelry offers fresh silhouettes and scrumptious stones.
Related posts: