18 Aug
Turkish 24K Gold Jewelry
This extraordinary collection of handmade jewelry is from the Turkish master craftsman Gurhan Orhan. Based in New York and Istanbul, Gurhan uses pure 24K gold combined with some of the most beautiful gemstones I have ever seen. Drawing inspiration from his rich cultural heritage and the ancient history of his ancestors, Gurhan pays tribute to traditional goldsmithing techniques with emphasis on modern style. Gurhan Jewelry reminds us just how wonderful pure yellow gold jewelry looks and feels.

24K Gold Rune Ring with Opal and Diamonds
Nine stunning opals of varying shapes and sizes are warmly wrapped in 24ct gold. Sitting in deep bezel setting with a closed back, the largest opal is 4mm by 6mm. The ring is finished with two rose cut diamonds and its own unique identity number which is inscribed on the inside of the band.
$3300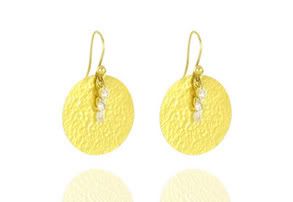 24K Gold Orbe Earrings with Diamonds
Featuring a round delicately hammered disc with three stunning diamond briolettes suspended in front, the disc measures 2 ½ cm in diameter. Suspended from a fine ear wire the total length of these designer earrings is 38mm.
$6000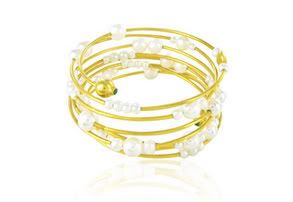 24K Gold Harika Bracelet with Pearls
This designer bracelet is made from a stunning spring of 24K Turkish gold with a brushed satin finish and is finished with two cabochon emeralds. Along its coil are pearls of varying size and there is a solitary gold disc bearing Gurhan's signature. This bracelet would make a unique accompaniment to any wedding dress.
$5100
Unlike many jewelry designers, Gurhan is entirely self taught. Not one to be confined behind a workbench, he likes to create at the beach, inspired by the stones and metals he touches and feels. Gurhan is committed to designing and creating jewelry that is comfortable to wear, sensual to touch, and timeless. His use of pure 24 karat yellow gold creates warmth and deep sensuality, communicating an exotic energy to the woman wearing his earrings, rings, necklaces, or bracelets.